AdwareSpywareDetective is designed to be simple and easy to use. It's design facilitates the quick action necessary to rid your PC of Spyware & Adware Parasites. The AdwareSpywareDetective Interface consists of 6 control buttons:

Clicking the Scan Now starts the scanning process for spyware, adware and other threats.When this button is clicked the following screen will appear: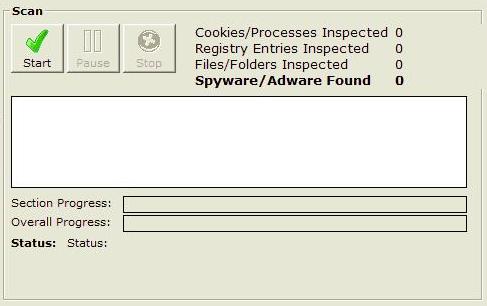 Once the "Start" button is pressed the scan will begin. As each area of your PC is scanned any threats detected will begin to appear in the scan status window. The scan should take no longer than 1 minute. When the scan is complete the "Click Here to Continue" button will appear. You can stop the scan at any time by pressing the "Stop" button or pause the scan by pressing the "Pause" button.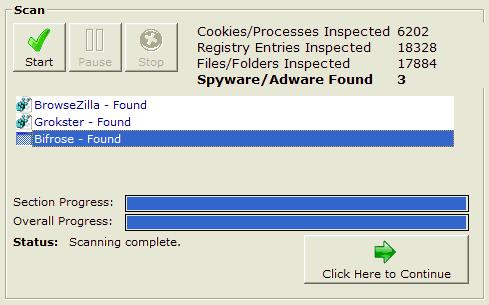 Once the scan is finished a list of detected threats found on your computer will be visible. Press the "Click Here to Continue" button. From here you can decide what threats you would liked removed from your system. Any threats that are deleted will be backed up to the Quarantine folder in the directory that you installed this program in.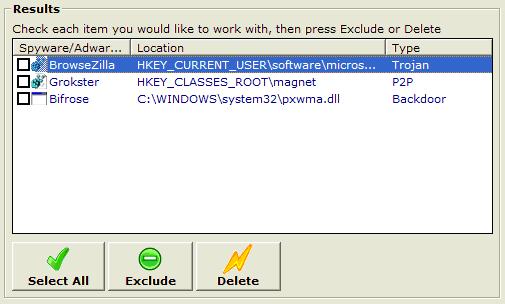 AdwareSpywareDetective has 4 main setting tabs. the first is tab is "Scan Options". We recommend that all 5 options are selected as it allows a comprehensive search for threats Scan Processes and Files
Running processes are programs that are open on your computer. If adware or spyware is currently running on your computer it will be detected by scanning running processes.
Scan Windows Registry
Many spyware and adware programs place entries into your system registry that allow them to be executed when you turn on your computer, or track information about you. If these registry entries are present on your computer they will be detected.
Scan Internet Cookies Many websites track personal information using cookies. Most cookies are harmless, but some are used to track your browsing habits and target you with advertising, or store personal information without your consent. If these cookies are present on your computer they will be deleted.
Save Scan Results to Log This option will allow you to view a log of your scans using the View Log button.
Send Anonymous Data
A feature of AdwareSpywareDetective is to detect threats that are not included in the 42,000 threat definition database. If an unknown threat is detected it can send details of this threat to be included in the next threat definition update.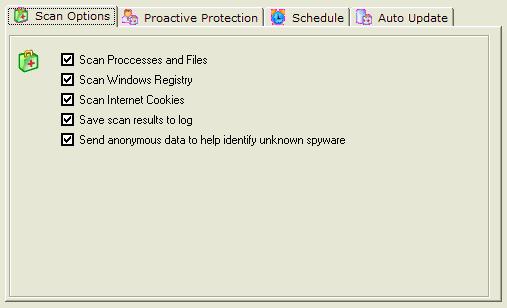 The second tab in settings is "Proactive protection"
Auto-Protect Auto-Protect
To ensure your PC is safe at all times AdwareSpywareDetective continuously monitors your system's memory in search of threats. Some threats can cause harm to your computer just seconds after running, so enabling Auto-Protect is an important step to stopping those threats dead in their tracks. If a threat is detected you will be alerted automatically, and you will be given the option to stop the threat from running. We recommend performing a system scan immediately afterwards to remove any files or registry entries that the threat may have created. Home Page Hijack Protection
Many spyware and adware programs will attempt to change your Internet Explorer Home Page and direct you to another site. Their motivation might be to get you to download new adware/spyware, display ads to bring in revenue, or direct you to a web page that pays them for web traffic. Enabling Home Page Hijack Protection will allow us to alert you whenever your homepage changes, and allow you to choose whether or not to allow that change to be made. Run at Windows Startup
Enabling this option will allow this program to run automatically whenever you turn on your computer. We recommend leaving this option checked all the time.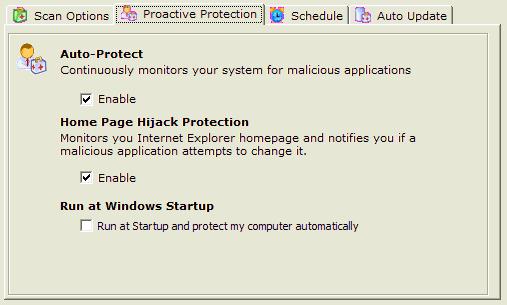 The third tab in settings is "Schedule".The schedule allows AdwareSpywareDetective users to scan their PC at a specific time or date.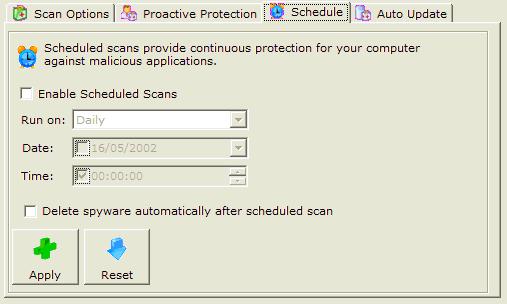 The final tab in settings is "Auto Update". Enabling Auto Update allows your computer to periodically run Live Update and ensure that you always have the most recent definition files available. Definition files are updated as new threats emerge, and we recommend that you leave this option checked all the time.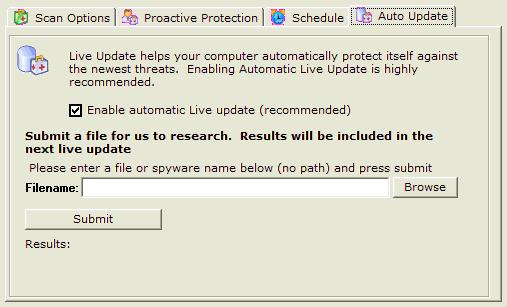 You can view your most recent scan log by clicking the View Log button. After each scan a log is created that serves as a record of the scan's activity. It provides you with details of the scan, how many items were scanned, and the locations that threats were located.
The status area displays information about this program, including the version number, definition file number, the number of Adware/Spyware applications it protects you against, the number you have removed, and the date your last scan was completed.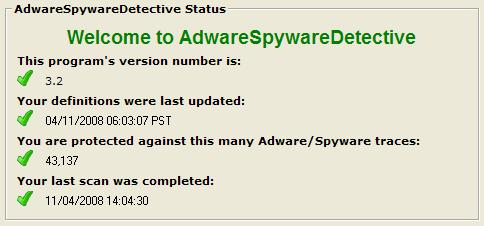 Clicking the live update button will automatically connect to our server to check for the newest threat definition files. We periodically update these definition files as new threats emerge. You can also enable Auto Update in the settings area so that the program will automatically check for updates.
Moves AdwareSpywareDetective to your toolbar on your desktop