AdwareSpywareDetective Download Instructions:

Your download of AdwareSpywareDetective should start immediately.
If The Download Does Not Start Automatically Please Click Here

You will be prompted by a dialog box similiar to this: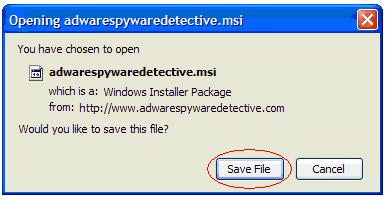 Save the file to your computer. The desktop is a good place to save it.
To install the software double click on adwarespywaredetective.msi
*.msi file is a windows installer Package file. This means you can install and uninstall from the same file. Unlike other anti spyware products adwarespywaredetective.msi is itself free from any adware/spyware or any other threats.